UK Tier 1 Entrepreneur Visa
More Group can support you with a Tier 1 Entrepreneur Visa application. A Tier 1 Entrepreneur Visa allows international business people with between £50,000 and £200,000 of available funds to enter the UK to launch or take over a UK business. The funds must be held by a regulated institution, such as a bank or venture capital firm, and must be free to spend – not tied up in securities, shares, or similar arrangements.
Point System
Tier 1 Entrepreneur Visa applications are assessed using a points system which is managed by the UK Visas and Immigration department at the Home Office.
Applicants need to score a full 95 points to be granted a visa: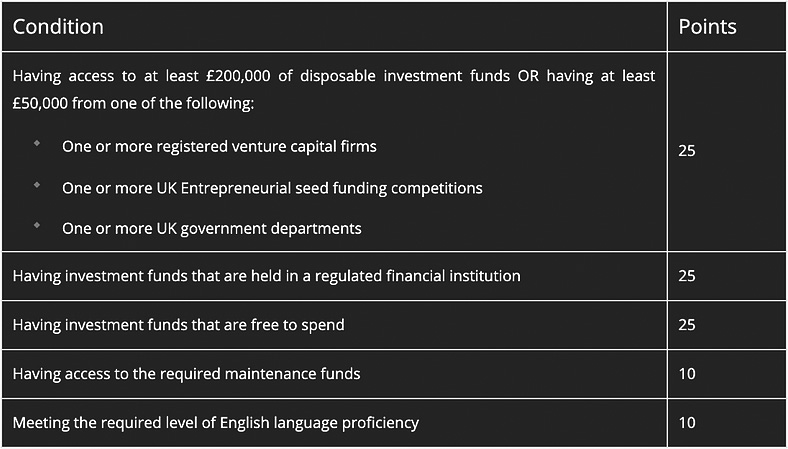 Documents required for a Tier 1 Visa
Tier 1 Entrepreneur visa applicants will need to provide the following documents to support their application:
Current passport and/or other travel documents.
A separate passport photograph.
Proof that they have access to between £50,000 and £200,000 of funds to invest
A business plan.
Proof that they meet the Tier 2 English Language requirements, such as English language test results.
Hong Kong has a straightforward taxation system with 16.5% tax payable on all profits.
Clear tuberculosis (TB) test result letter, if the applicant is from one of the countries on the Home Office's TB testing list.
A criminal record certificate from any country they have lived in for more than one year in the past ten years.
Fund Requirements
As a Tier 1 Entrepreneur applicant you must have funds available to support yourself during your stay in the UK. The amount of maintenance funds required depends on whether you are making an initial visa application or applying for extensions:
Initial applicants must have funds of at least £3,310
Those applying to extend their visa must have funds of at least £945
Note – All applicants must have had this amount consistently for three months or more.
How More Group can help
At More Group, we truly believe that by putting our clients first and by listening to what they want, we can deliver the highest possible standards of customer care. We work closely with our clients to ensure we provide high quality and customer focused services.
Need Help For Tier 1 Entrepreneur Visa?
Discuss your needs in detail with our specialists today!